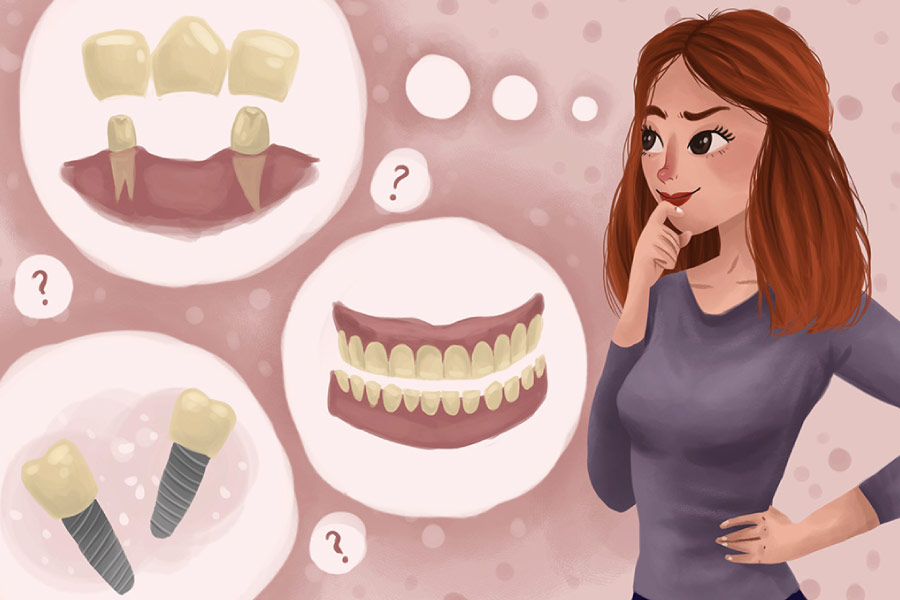 Are Dentures Right For Me?
March 30, 2021 5:42 pm
---
You can lose teeth for a variety of reasons, including gum disease and decay. Missing teeth affect your confidence, chewing function, and even your facial shape! Luckily, there are tooth replacement options. Dentures are a popular choice. Are they right for you?
Types of Dentures
There are three kinds of dentures: full, partial, and implant-supported. At our Summerville office, we're proud to provide all three denture options for our patients!
Full Dentures
Full dentures are full mouth restorations. They replace an entire arch. If you have most of those teeth missing, we'll need to extract the rest to use full dentures. The dentures are custom-made and we'll make sure they look and feel natural. Full dentures are removed every night for cleaning. A strong dental adhesive keeps them in place.
Partial Dentures
Partial dentures replace several missing teeth in a row. They're held in place with metal clasps that use nearby teeth for support. The clasps also help keep your remaining teeth from moving. Like regular dentures, partial dentures are removable and held in place by adhesive.
Implant-Supported Dentures
The process for creating an implant-supported denture is a bit different. This is the most stable and natural feeling denture. You'll first get dental implants that fuse to your jawbone. Healing time varies, but it will be a few months before your mouth is ready. Once you're healed, your new dentures fit on top of the implants, giving them a more stable fit. Our implant-supported dentures are removed nightly for cleaning.
Benefits of Dentures
Whatever kind of denture you choose, there are many benefits. They restore your smile and preserve the shape of your face, boosting your confidence. Dentures also improve your chewing and speaking functions. Thanks to modern dentistry, dentures are much more comfortable than in the past.
Getting Dentures at Seastone Dental
Whether dentures are right for you mostly depends on how many teeth you're missing. For implant-supported dentures, the health of your jawbone matters, too. At your consultation, our dentists will walk you through your options and help you select the one that best fits your lifestyle. Ready to come in or have questions? Please contact our Summerville, SC team today.
Image by Authority Dental under CC 2.0
Categorised in: Dentures, Restorative Dentistry